The solution for Maintenance Bolting Service.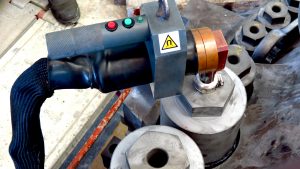 The solution for induction tightening.
After several years of activity in the field of magnetic induction locking and unlocking of hollow and non-hollow linkage, we have reached a higher level. Although KERA 30 was an extremely effective machine, we managed to create HELIOS-35, a more powerful, more versatile and above all aimed at industry 4.0.
Power and efficiency.
The heating power of the previous versions of our magnetic induction machines was remarkable and allowed to heat tie rods reducing the time by 80%. A stunning result considering the old and obsolete methods of resistance or flame heating. HELIOS-35 surpasses previous versions, not only in terms of power and heating speed, but also in terms of efficiency. Among the various Helios optionals, there is in fact the possibility of enabling a timer to set the heating time and facilitate operations during consecutive unlocking.
Versatility.
The efficiency of HELIOS-35 does not stop at the setting of the heating time. Based on the type of application, we produce two different types of inductors. Axial inductors for cable tie rods and annular inductors for applications on cylindrical parts in general. Given the diversity of inductors, which are custom built, this machine is equipped with a power regulation system that guarantees, for each inductor, to always operate in conditions of maximum efficiency.
Intuitive and updatable operating system.
Depending on whether axial or annular inductors are used, setting the operating parameters is child's play. Thanks to the new color display, all the learning procedures are guided, thus facilitating the use and understanding of the machine, although we organize specific training courses to understand and make the most of the potential of our induction tightening machinery.
We have worked on HELIOS-35 so that it can evolve with us and we have added the USB port through which it is possible to update the updated system.
Real-time diagnostics and system updates.
HELIOS-35 is aimed at industry 4.0. It is in fact possible to equip the machine with a connectivity package and use the remote connection via Wifi or Modem. Through this function we are able to provide machine usage reports to check if it is working correctly, at the same time providing a predictive maintenance service and always keeping the machine in excellent condition. In addition, it allows us to communicate directly with the machine, so that we can provide you direct, even while the machine is operating on site, realizing our "near you" pay-off.
Maintenance Bolt Service at its best.