About On-Site Machining.
We often talk about on-site machining when it is not possible to bring a damaged mechanical component to the workshop, therefore a company may need a team of experienced professionals, who carry out mechanical processing directly on site. It could be a petrochemical plant, a paper mill, or even an amusement park. During our 30 years of experience, it has happened very often to travel to construction sites all over the world to perform turning, boring, milling up to equip ourselves with the most recent technological developments such as portable numerical control machines and laser measurement instruments.
Below we report a series of processes that we carry out with high frequency.
[dflip id="5465″][/dflip]
On-Site Machining Capabilities.
On-site Machining Turning.

On-site turning operations are probably the cornerstone of the mechanics of the machines, in which the restoration of the cylindricity of rotating elements is the main goal to be achieved. These elements are restored by means of turning operations, sometimes to be carried out directly on site, where they are installed. Classic turning on a stationary lathe is performed by rotating the piece on the axis of rotation and sliding the tool longitudinally on the generatrix of the shape to be obtained. If this operation has to take place on site, where the component is installed, a portable turning machine can be decisive.
On-site Milling.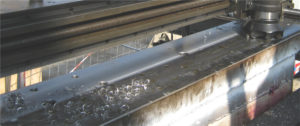 The milling of metal surfaces and other surfaces that require on-site processing is an operation that requires the use of properly configured machines. In general, this is a mechanical processing carried out by means of a rotating tool with one or more cutting edges, the cutter, equipped with linear movement, on 2 or 3 axes, which follows the plane to be machined. This type of processing also allows the removal of large quantities of material, directly on structures affected by deformation of the geometry, such as the bases of turbomachinery such as gas / steam turbines, electric motors, large generators and gearboxes, of press surfaces. milling of support surfaces / instrumentation assembly on various types of equipment.
On-site Flange Facing.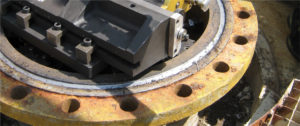 The most sensitive part of the flanges is the sealing surface, which must fix on the gasket to guarantee a spotless flow of the fluid. In the most typical case it is possible to include pipe's flanges or of other pressurized products, such as heat exchangers, boilers, chemical reactors, manholes of tanks, etc. The most common types of seals are found on RF (Raised face) flanges with phonographic grooving and spiro-metallic gasket, RTJ (Ring Type Joint), or RJ (Ring Joint) flanges, with circular groove and trapezoidal section, flat flanges with seats for O-Rings, or other types of O-rings. In each of the cases mentioned above, a particular mechanical flattening machining of the flange and the profile of the sealing area is required.
On-site Line Boring.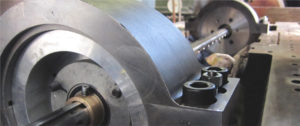 Boring Machining operations allow to machine both cylindrical surfaces (in the case of radial bearings) and flat surfaces (bearings). A peculiarity of the boring of the cushion seats is that of being able to perform one or more machinings perfectly in axis with other rotation reference surfaces (other bearing seats, other surfaces in general). The boring machine consists of 2 or more bearings (depending on the case), in which the boring bar of the boring machine rotates and slides. The boring machine with its electronic control unit is fixed to one of these bearings.
On-site Drilling.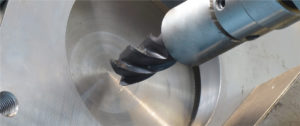 Execution of drilling and tapping of the most disparate dimensions and positions on the elements that include them. We perform drilling and tapping from solid, therefore of non-existent holes, and drilling and tapping of existing holes that need to be widened for repair, or design modification. Another peculiarity of drilling and tapping is the ability to perform them in any position and orientation, with reference to the surfaces defined by the project.
On-site PipeCutting and Beveling.

Effettuiamo il taglio e lo smusso di tubazioni (anche di grande spessore) sia su componenti nuovi, che in manutenzione presso gli impianti. Le tagliatubi sono espressamente progettate per il taglio di tubazioni nell'industria impiantistica e delle pipelines. È possibile effettuare la preparazione del bordo di taglio per successiva saldatura, secondo gli angoli più comuni richiesti dalle normative tecniche (37,5°, 30°, 45°, a Y, a J) o con angoli speciali mediante utensili dedicati. Mediante l'applicazione di tagliatubi si esegue il taglio fino a diametro di 80″ (2000mm) di tubazioni in cantiere. Le macchine sono applicabili anche a tubazioni continue in opera, poiché il loro corpo è scomponibile (split frame).
On-site Rectifications.

For these needs, specific grinding machines are used, designed to carry out the machining in conditions such as to guarantee the required roughness, generally without changing the geometry of the surface. For this purpose, there are various technological solutions that allow us to carry out the grinding of many surfaces such as surfaces, cylinders (internal or external) and cones. In any case, the machine has its own specificities, in terms of construction, regulation and operation. Generally, the grinding is carried out using appropriate tools, the so-called "grinding wheels", which carry out a controlled abrasion of the material, producing a surface finish that is also very strong.
On-site Induction Bolting.

In the construction of artifacts that will have to produce or use large powers, there is a need to tighten and untighten large sized bolts with high mechanical strength. Nuova Simat carries out these operations with a highly safe magnetic induction system for the operators, which greatly reduces both the operation times and the heating temperatures. The operators are highly qualified to carry out the work according to the technical specifications required by the customer. The system is applicable to all nuts and bolts that have a central axial drilling from Ø9 to Ø34 (both through and blind), of magnetizable materials (almost all steels, up to Inox, Duplex and Nimonic). However, special radial inductors are available which can be adapted to cylindrical surfaces (eg keying of metal components).
On-site Laser Tracking Alignments.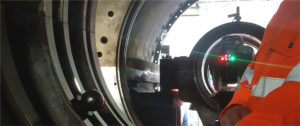 We perform flatness filling operations, alignment of mechanical components and surveys of surfaces of different nature, through a detection system based on laser technology. This system, in addition to guaranteeing the accuracy of the measurement, allows you to monitor waste in real time, as it communicates with a CAD software, which collects the detected data. It is useful for surfaces of different shapes and is used in the preliminary stages, for checking the surface and analyzing the work plan; in the intermediate stages, to check the status of the works; and in the final check of the scraps obtained.